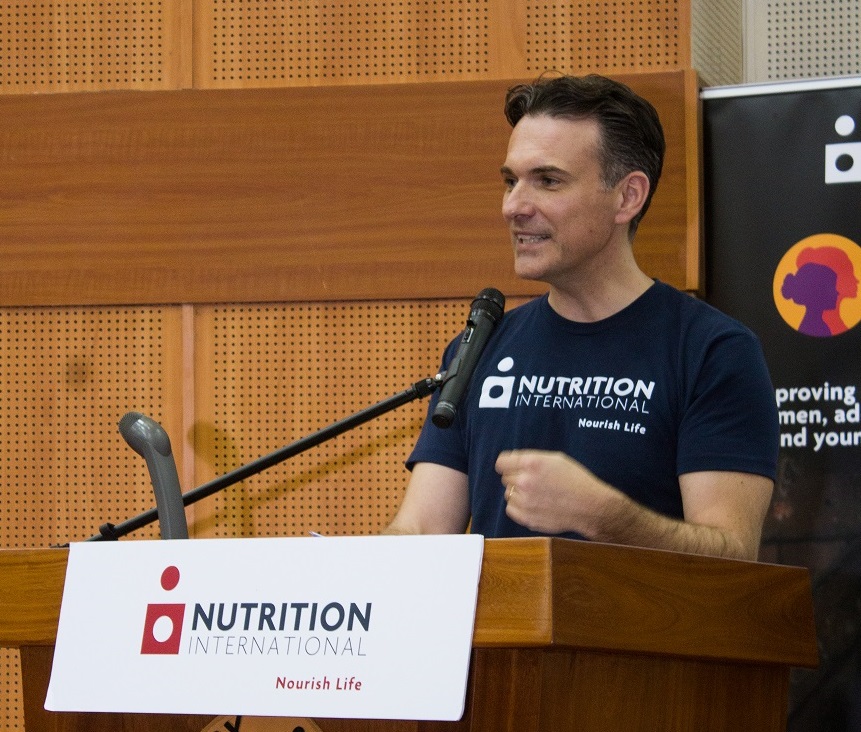 Check against delivery.
Honourable Minister for Health, Community Development, Gender, Elderly and Children
Representatives from the Canadian High Commission in Tanzania,
Permanent Secretaries,
Representatives of Ministries, Departments and Agencies,
Partners, friends
Distinguished Guests,
Ladies and Gentlemen
Protocol observed
KARIBUNI!
On behalf of Nutrition International it is a real pleasure for our team to be here today for the launch of the Right Start Program in Tanzania.
Let me start by thanking our hosts, the Tanzanian Ministry of Health, as well as the Dodoma Regional Government. I would also like to recognize the presence of our implementing partners for Right Start, Amref and the Tanzania Food and Nutrition Centre, without whom we could not do what we do. And thank you all for accepting our invitation to join us to mark this important moment.
I'm excited to be here with you in Tanzania, as this is a very special time for Nutrition International in this country. Although we have been building strong relationships with various levels of government for quite some time, we officially opened our Tanzania office just last fall, as part of an exercise to expand our operations in East Africa that also involved opening a regional office in Nairobi.  We are proud to have a physical presence here in Tanzania, with a mighty team led by Dr Daniel Nyagawa, whom you just heard from. Daniel is a medical doctor and public health specialist with more than 20 years of experience in maternal, newborn, infant and young child nutrition, child health, and control of micronutrient deficiencies. I am confident that, with his expertise, he will lead Nutrition International Tanzania to great heights ― and I want to officially welcome him, and his whole team, to the family.
The Government of Tanzania has put in a lot of efforts to improve nutrition for the most vulnerable populations. In fact, we supported them in the development of National Multisectoral Nutrition Action Plan. These efforts are paying off: Tanzania is making progress towards reaching the World Health Assembly targets for stunting and wasting. The fact that nutrition is an issue being handled by the Prime Minister's Office is also showing that it is a priority of the government.
But, despite this progress, there is still much to be done. According to the latest Tanzania Health Demographic Survey, the prevalence of anaemia among women of reproductive age is 45% – and it goes up to 57% for pregnant women. And 1 out of 3 children under the age five is stunted. This indicates nothing short of a silent malnutrition crisis.
The health impacts are obvious. But this is not only a conversation about health; it is also a conversation about economics.
According to UNICEF, vitamin and mineral deficiencies alone cost Tanzania 650 billion Tanzanian Shilling ― or about 390 million in US dollars ― in lost revenue each year.
A malnourished child born to a malnourished mother is robbed of his or her potential to live a productive and healthy life and remains trapped in the vicious cycle of poverty, in which everyone loses.  He or she will not be able to fully participate in the economy of the future. In a world where automation will be the norm and high level skills will be required, we need to empower the mind as much as the body. And we know that good nutrition also feeds and sharpens the intellect.
The point is: without good nutrition – real, equitable progress and development cannot happen. This is why increasing investments in nutrition and spending them effectively is crucial. Awareness and leadership are important, but without the appropriate resources and action, they do not lead to the change people desperately need. Investing money and resources in nutrition is not only the right thing to do, but also the smart thing to do to ensure a sustainable future for this country.
Through Right Start, with a financial support of 2.8 million CAN dollars from the Government of Canada, Nutrition International will work with the government to improve health and nutrition in Simiyu and Mwanza regions, which are heavily affected by malnutrition.
Canada is a longstanding global leader in nutrition. In fact, this year, Nutrition International is celebrating 25 years of global impact and partnership with the Government of Canada, including the Right Start program which is being implemented in nine countries around the world.
This initiative has a focus on girls and women – because they face a particularly heavy burden of malnutrition and because they are powerful forces for change who lift up everyone around them.  Investing in women, is an investment for all.
With the exception of my grandfather, some of the most influential people in my life that helped shape my beliefs, my values, what I fight for, what I stand for – are women.  From my grandmother, to my mother, to my wife and my daughter.  Without strong women, you cannot have strong men.
Empowering women and girls is a thread throughout all of Canada's international development work ― and the guiding principle behind its new International Assistance Policy.  It is also a key driver of our work at Nutrition International.  By 'empowering' we don't simply put a strong focus on tackling malnutrition among women and girls; it's much more than that.  It's also about involving women in the design of projects – listening to their ideas – respecting their knowledge of what works in their own communities, and equipping them with the knowledge they need exemplifies our approach.
I want to end by telling you about something I experienced that reminded me of why programs like Right Start are so important. I have been travelling the world launching the initiative – and meeting many of the people who will benefit directly from it. One of these people was Marrion, an adolescent girl who will be receiving weekly iron and folic acid supplementation at school through Right Start. As I sat down with her and about 20 of her classmates, I asked them to, one by one, tell me what they wanted to be when they grow up. One girl wanted to be a pilot, another a journalist, many wanted to become doctors. When her turn came, Marrion stood up and said: "I want to be President." And the funny thing is – it seemed entirely possible.
This is exactly why we do what we do. So that every woman, child and adolescent girl, with improved nutrition, can have access to their full potential – and achieve their dreams.
Here in Tanzania, Right Start will contribute to improving the nutrition of 94,000 adolescent girls through weekly iron and folic acid supplementation and nutrition education – and I am very proud of this. I hope to meet many Tanzanian Marrions next time I visit.
Thank you. ASANTE SANA