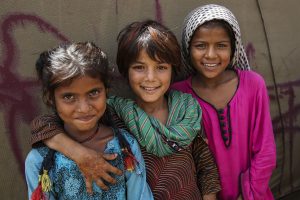 Baluchistan, PAKISTAN – In response to the ongoing COVID-19 pandemic and as an endeavour to contribute towards mitigating its severe consequences in Pakistan, Nutrition International signed a Memorandum of Understanding with the Baluchistan Rural Support Programme (BRSP) to extend financial aid of CA $5,000 (~PKR 626,000) to ensure a steady food supply for people living in vulnerable situations who are affected by COVID-19 in the province. Half of the aid was collected through contributions from staff in our Pakistan country office and it was matched equally by Nutrition International.
BRSP is one of the largest not-for-profit organizations in Baluchistan whose primary focus has been to improve the living conditions of people living in poverty in rural regions. The financial aid will support the on-ground efforts of BRSP in provisioning food supplies to people living in vulnerable situations and affected by the pandemic in Baluchistan. The food supplies distributed by BRSP will also include nutrition and health messages to raise awareness about good nutrition for building immunity and fighting the pandemic.
Nutrition International has been working in Pakistan since 2001, partnering with national and local governments to deliver nutrition interventions such as vitamin A supplementation, as well as zinc and oral rehydration salts supplementation for the treatment of childhood diarrhoea. Other key interventions include work across the country to increase the production of adequately iodized salt and to increase iron and folic acid consumption through fortified wheat flour and fortified oil and ghee. Currently in Asia and Africa, as a response to COVID-19, Nutrition International staff and extenders are also providing technical and operational support to millers through mobile technology so they can continue to fortify flour and other staples to reduce the prevalence of some of the most common micronutrient deficiencies.
"Our years of experience has shown that protecting those who are in the most vulnerable living situations from hunger, having serious health consequences of malnutrition, is one of the most crucial COVID-19 response efforts," said Dr. Shabina Raza, Country Director, Nutrition International Pakistan. "In such hard times, this is our small yet earnest endeavour, to ensure a food supply to some of the worst-hit people in Baluchistan."
Muhammad Siraj-Ul-Haq Ghouri, Senior Manager Programmes, Baluchistan Rural Support Programme welcomed the contribution. "While the highly contagious disease stands to affect everyone, it is the marginalized section of the society who is the most vulnerable. As countries divert limited resources to treating immediate needs, as economic shutdowns disrupt supply chains and as the contraction of the informal economy devastates purchasing power – nutritious food and basic health services will become more difficult to access," he said.
Like many other countries, Pakistan has witnessed a spiralling upwards trend in COVID-19 cases, with the total number currently sitting close to 278,000 cases. The province of Baluchistan alone has reported 11,708 cases. This staff-led initiative by Nutrition International in Pakistan comes at a critical moment when the country is facing testing times to limit the spread of the virus and respond to those who have been affected by it.