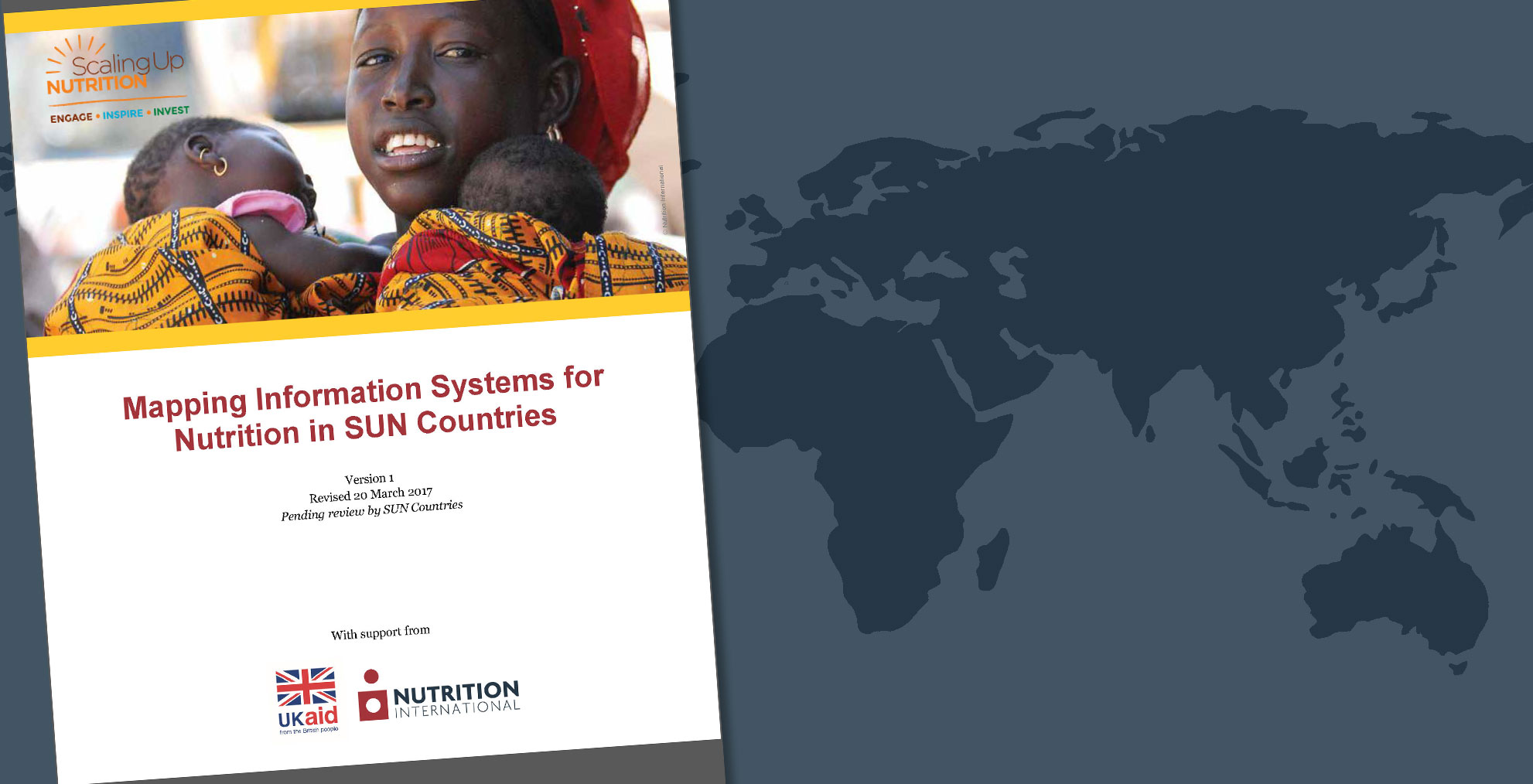 There is now, and for the first time, a standard framework that systematically assesses the state of  information systems for nutrition across 57 of the 59 countries part of the Scaling Up Nutrition Movement (SUN).
In a flourishing collaboration, the SUN Movement Secretariat (SMS) and Nutrition International worked on the establishment of a baseline that will help understand the status of each country's information systems for nutrition and where countries need most support to fill data gaps to optimally gather, analyze and use nutrition information. Accurate and up-to-date data is important to effectively inform policies and programme design that have greater impact on the nutrition status of populations.
This mapping exercise, based on publicly available data, was undertaken as part of the DFID-funded Technical Assistance for Nutrition (TAN) project.
The three components of a functional and effective information system for nutrition were looked at:
Government commitment and enabling environment: under this category, the research team tried to uncover whether, among other things, each country has a national nutrition policy, is tracking key global nutrition targets and has reviewed allocations for nutrition in the national budget. The mapping also looked at whether governments are gathering nutrition-related data in a centralized and publicly accessible place.
National assessment data: the research team also looked for the availability of nationally-representative survey data, and whether these surveys were conducted on a regular basis – every three to five years. Of particular interest was the availability and recency of surveys collecting data related to demographics, health, micronutrients and food security.
National performance monitoring data: the team collected information to help determine whether countries closely monitor the delivery of nutrition interventions and whether there are currently systems in place that help countries understand the reach of those interventions. Given the SUN Movement's commitment to a multisectoral approach, the research also looked for information about the existence of information systems in other sectors, including health, agriculture, education, WASH, social protection and early child development (ECD), that are able to track the performance of nutrition-sensitive interventions.
This work provides important insights on the availability of data and information in-country, highlighting challenges for their full use, but also confirming the existence of many sectoral information systems relevant for nutrition policy and program design in SUN countries.
This mapping research will be useful for SUN countries to identify potential nutrition data gaps, to help guide their nation's nutrition strategy, and to better understand how nutrition information can be incorporated into their existing information systems in various sectors.
"We are very excited about our ongoing and growing collaboration with the SUN Movement Secretariat, and to have contributed to this product that will have great impact on nutrition planning and coordination in all SUN countries," says Loretta MacKinnon, TAN Project Director at Nutrition International.
Nutrition International and the SMS will be conducting this mapping exercise in the two newest member countries of the SUN Movement over the coming months.
A global report on the mapping findings, summaries in English, French and Spanish as well as a methodology document are now available on the SUN Movement website
About TAN
The Technical Assistance for Nutrition (TAN) is a project led by the United Kingdom's Department for International Development (DFID) which seeks to improve the capacity of SUN countries to design, deliver, and track the progress of nutrition programs and to generate, learn from and adopt knowledge of what works. As part of its support to TAN, Nutrition International is making technical assistance available directly to 20 countries in Africa and Asia, as well as to all SUN countries indirectly through the SMS.