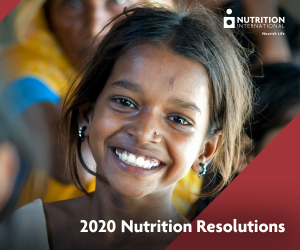 2020 is a big year for nutrition. There are now only five years left to achieve the WHO Global Nutrition Targets, we will be halfway through the UN Decade of Action on Nutrition, and Japan will host the Nutrition for Growth summit. As we start this important year, we have made five nutrition resolutions, which we will share every day this week. What are yours?
Resolution 1: Put gender equality at the centre of everything we do

While malnutrition affects one out of three people on the planet, its impacts are particularly heavy on women and girls. We will continue to put a focus on gender that seeks to address this disproportionate burden and its root causes, because we believe understanding and improving gender equality are essential to improving the nutrition of women and girls.
Resolution 2: Bridge the knowledge gap in adolescent nutrition
Globally, adolescents―particularly girls―are greatly affected by malnutrition, partly due to their specific biological needs. However, they are often missed by health and nutrition interventions, as until recently they have not been viewed as a priority for health and nutrition. Through our free, online Adolescent Nutrition and Anaemia course, we will continue to build the capacity of individuals and organizations to better understand and address the nutrition of adolescents. Look out for Modules six to 15 in 2020!
Resolution 3: Partner with others to increase our impact

Working in silos prevents us from serving the best interest of people in need. We will continue to take a 'no missed opportunities' approach and determine how to work with, support and leverage other organizations to accelerate progress towards the WHO Global Nutrition Targets―which are direct drivers of the SDGs.
Resolution 4: Influence policy and support countries to scale up nutrition

Our team of world-class nutrition experts will continue to contribute to the global evidence base in nutrition and to help translate this evidence into strong policies that provide high-quality programs for those in need. As one of the largest technical assistance providers to SUN Movement countries, through NTEAM, we will continue to provide technical assistance to countries who need support and capacity building to achieve nutrition objectives.
Resolution 5: Help other sectors become more nutrition-sensitive

We know that nutrition affects, and is affected by, many other areas of development. This is why we will continue to support other sectors, such as those in education, WASH, sexual reproductive health, social protection and agriculture, to become more nutrition-sensitive. We believe this is key to increasing the impact and sustainability of all of our development work.